Plan for new shopfront onto O Connell Street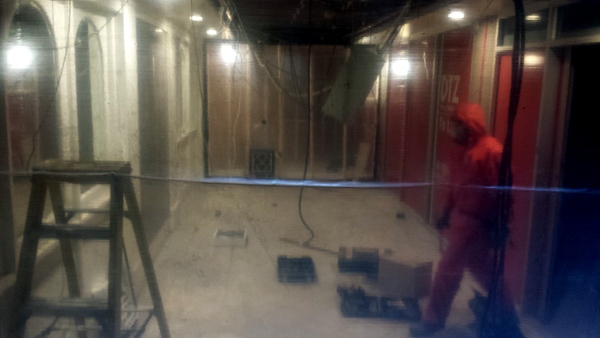 Ahead of the 400,000 visitors expected for Fleadh Ceoil na hEireann next summer Sligo town may have a new shopfront opening onto O'Connell Street. The new proposal come from CeX Ltd, which specialises in buying and selling small electronic goods. Its plan was posted last Thursday on premises numbers 1 and 2 in the Tesco Arcade. It would also paint the O'Connell Street site in the distinctive ''corporate colours'' of CeX, ie Red Ral 3000. Limerick planning consultancy and surveyors, Flynn & Shaw, is handling the planning application.
Asbestos Find
CeX had planned to be in business in Sligo for the Christmas market but asbestos was discovered in the premises when renovation started last October. See Sligo Today 22/10/2013. CeX was established in 1992 in the UK, where it now has 200 stores. It buys and sells second hand goods goods such as computers, mobile phones, games(PAL versions) DVDs (region 2), CDs, Blu-ray. Uniquely, the CeX company has offered customers a 12 months warranty on second hand goods sold in its stores.
Irish wing
It pays cash for goods its buys only to those with full membership at its stores. This usually involves producing a passport, driving licence and/or a recent utility bill. Associate membership is usually offered to those who wish to sell goods for vouchers which may then be spent on other goods in the shop.
The Irish wing of CeX was only set up just over three years ago and is registered in Dublin. Directors here include Robert Dundani, Hugh Man, Richard Oldham, David Butler and David Mullins. Meanwhile, the first Irish CeX franchise store was opened in Dublin's Liffey Street Upper in April 2011, said the Irish Franchise at the time. It reported the Master Franchise in Ireland is held by Michael Kearney, Ed Murphy and the man who first brought Nokia to Ireland 20 years ago, Paul Reddy.
The premises were previously operated for decades by Brodricks card shop and separately a travel agency. Both entrances inside the mall at Tesco Arcade. The partition wall between the two premises would be removed if planning approval is granted. Permission to open out onto O'Connell Street would give the new CeX shop a prime location in the town.
Source: Sligo Today