The second annual Sligo Children's Book Festival returns 6th – 10th March 2014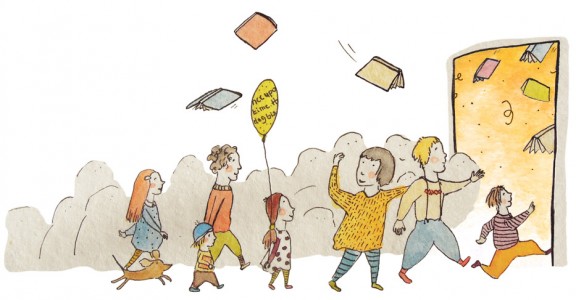 Three of Sligo's leading cultural organisations have come together for a second year to host the Sligo Children's Book Festival, celebrating family literacy and creativity of parents and young children. The Model arts centre, Kids' Own Publishing Partnership and the Hawk's Well Theatre have created an action-packed festival featuring film, puppetry, theatre and the return of the amazing Kids' Own Book Factory.
The second Children's Book Festival opens on Thursday, 6th March at 6pm, at The Model with a book launch and exhibition of work created by children from The Kids' Own Book Press, followed by a series of exciting events throughout the weekend at venues across Sligo.
We '♥' Books: Hawk's Well Theatre
On Friday 7th March, the Festival will celebrate World Book Day 2014 with three of Ireland's favourite children's authors who will be visiting Sligo as part of the We '♥' Books tour. Join Oisin McGann, Celine Kiernan and Sarah Webb at the Hawk's Well for a morning of book-themed fun as they celebrate their favourite books. A pop-up book shop will be provided by Liber and there will be a chance to get books signed on the day.
Friday 7 March, 10.30amFor 5th and 6th classes. €3
Book Toons – Mini Proms: Hawk's Well Theatre
A wonderful event for all the family, join Anything Goes as they celebrate the wonder of books and music in this special show for all the family. Dave, Eddie, Kieran, Sinead and Tonto will perform a selection of our favourite songs from children's books. Sing along to family favourites such as the Bare Necessities from The Jungle Book, Somewhere over the Rainbow, (The Wizard of Oz), Someday My Prince will Come (Snow White) and Under the Sea (The Little Mermaid).
Early booking advisedSat 8 March //3.30 pm//Hawk's Well TheatreAll ages//€12/€6 (for under12s)/€30 (families)
Kids' Own Book Factory: The Model
Kids' Own hosts another whirlwind of bookmaking at The Model, Sligo. Join this hive of industry; power the production line with your imagination and creative ideas! Get inspired and create your very own book with artists Naomi Draper and Vanya Lambrecht Ward!Booking is essential. Please contact The Model.
School Workshops Fri 7th
9.30am (Junior Infants)//12.30pm (2nd Class)
Family Workshops//Sat 8th
10am (5 yrs + parents)//2pm (6/7 yrs + parents)
Family Workshops//Sun 9th
10am (5 yrs + parents)//2pm (8 yrs)
All workshops are 2 hours long//€5 per child
Theatre Lovett Presents – Mr Foley, The Radio Operator: Hawk's Well Theatre
Theatre Lovett invite you into a world of radio waves and slapstick comedy in their hilarious and heart-breaking new show Mr. Foley, the Radio Operator. Join Louis Lovett as he conjures characters and chapters full of charm from Mr. Foley's past.
Sun 9 March//3pm & Mon 10 March//10am & 12pm//Hawk's Well Theatre
Age 6+//€8/€6 (for under12s)/€25 (families)
Custard Pie Puppet Company Presents – Rumpelstiltskin: The Model
Custard Pie bring us their own characteristic portrayal of this Grimm's fairy-tale
classic! The miller's daughter must prove to the King her alchemic ability to weave straw into gold. Adapted and directed by Conor Lambert, it promises to surprise and enchant.
Sun 9 March//1pm// The Model
€7/Rumpelstiltskin
€15/€12 (for kids): Brunch special with theatre ticket served from noon at The Model Café
Story-Time with Emily: The Model
Join us at The Model on Saturday 8th March for an afternoon of storytelling with Emily. Sessions in English and as Gaeilge. All Ages/Free. Contact The Model for more details.
For further updates on Sligo Children's Book Festival, please visit www.themodel.ie or telephone The Model Box Office on 071 91 41405.